Maroubra, 30 November: The Vissla NSW Pro Surf Series will return to the NSW coastline in 2023 with four elite World Surf League (WSL) Qualifying Series(QS) events throughout February and March of 2023. Great Lakes, Port Stephens, Avoca Beach and Maroubra are the secured locations for the series, which will offer the athletes and local communities the opportunity to enjoy some of the most iconic destinations in New South Wales once again.
To ensure the success of the NSW Qualifying Series events, Surfing NSW has joined forces with the NSW Government, through its tourism and major events agency Destination NSW, Vissla, World Surf League and the local councils, MidCoast Council, Port Stephens Council, Randwick Council and Central Coast Council.
NSW is home to a plethora of incredible male and female talent. Events including the Vissla NSW Pro Surf Series provide a platform to showcase these competitors and assist in their pathways to the WSL Championship Tour. Spectators also benefit as crowds flock to the event locations to experience the high energy that pulsates throughout the beach.
NSW Minister for Tourism Ben Franklin expressed his excitement for the return of the 2023 Vissla Pro Surf Series.
"NSW is the number one surfing destination in Australia and we are incredibly blessed to have some of the most spectacular coastlines in the world to host world-class surfing events like the NSW Pro Surf Series. The NSW Government is proud to partner with Surfing NSW on this event, which brings recreational tourism and economic benefits to our coastal communities by providing surfers and fans with an opportunity to experience the variety of surf breaks and unique surfing cultures that NSW has to offer." Franklin explained.
The Vissla NSW Pro Surf Series was officially announced by Surfing NSW CEO Luke Madden and athletes Arabella Tarpey and Baxter Hurt on the shores of Maroubra Beach, the third location of the 2023 series.
Surfing NSW CEO Luke Madden added to Minister of Tourism Ben Franklin's excitement and said the four-event series has become one of the benchmark events on the Surfing NSW Calendar.
"This will be the eighth consecutive year running for the NSW Pro Surf Series and since its conception in 2016 it has become a key asset to our pathways and community that we want to continue to invest in and build on," said Madden, "We consider ourselves incredibly grateful that this series was able to run through Covid but now that we are coming out the other side, we anticipate that 2023 is going to be bigger and better than ever."
Previously, three events held a QS1000 rating (Great Lakes, Port Stephens and Maroubra) and one QS3000 (Avoca Beach), however, Surfing NSW is pleased to announce a substantial point increase for the 2023 Camplify Great Lakes Pro that will now be a QS3000.
The jump from one QS3000 to two in next year's series is due to the success of the WSL's recent tour restructure that came into effect in 2021. The new streamlined approach received great support and will continue to offer competitors the chance to develop their skills closer to home whilst minimising financial stresses.
WSL APAC Tour Manager Ty Sorati explained the importance of the 2022 Great Lakes Pro point increase as a pivotal moment for the growth of the overall series and his thoughts on the 2021 tour restructure.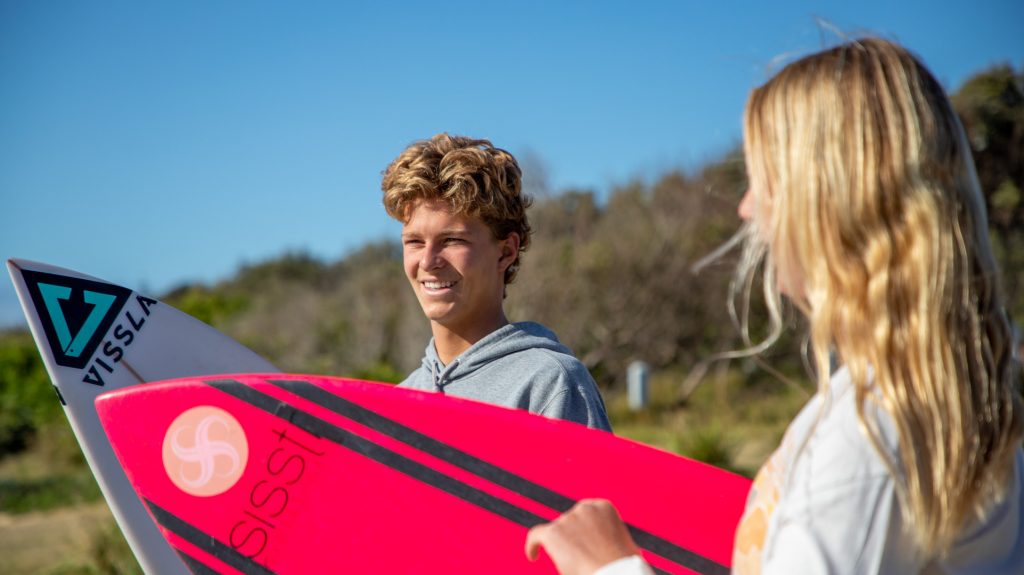 "The 2023 Australian Qualifying Series leg will offer more points than ever before thanks to the upgrade of the Great Lakes Pro from a QS 1000 to a QS 3000 event," said WSL APAC Tour Manager Ty Sorati.
"It's great to see events on the New South Wales Pro Surf Series expanding in this way as it gives competitors in this region even more opportunities to develop their careers with extra points and prize money on offer. We'd like to thank Surfing NSW and all of the series sponsors for the ongoing support of pro surfing in this country."
Without the support and financial assistance provided by The MidCoast Council and Regional NSW, the opportunity for The Camplify Great Lakes Pro's astronomical growth would not have been made possible.
Paul De Szell, Director of Liveable Communication, MidCoast Council explained.
"We are extremely excited to be able to support the Camplify Great Lakes Pro, via successful funding through the NSW Government's 'Reconnecting Regional Community Events Grant' program. The significant increase in funds has allowed it to expand to a QS3000 event and will further showcase the area and cement its reputation as a premier surf spot. MidCoast Council looks forward to working closely with Surfing NSW to deliver this world-class event and further support the visitor economy to the Barrington Coast."
Vissla and Sisstrevolution's John Mossop also expressed his enthusiasm to support the 2023 NSW Pro Surf Series.
"Every year the NSW Pro Surf Series just gets better and better. The stakes are higher in 2023 with the point increase and an overwhelming amount of talent in the water, so it's going to be epic to watch and I am stoked to be a part of New South Wales emerging crop of talent as they endeavour to qualify for the WSL Championship Tour," Mossop said.
The Vissla NSW Pro Surf Series was developed for Australian surfers to gain ranking points and prize money in the WSL Qualifying Series. The series also creates a NSW coastal road trip for all to explore the variety of waves, visit local communities and enjoy NSW surfing culture.
All events will be webcast through worldsurfleague.com and the WSL App.
All event news, images and highlight clips will be housed at surfingnsw.com.au in the coming weeks.
For more information on these events head to worldsurfleague.com or check the free WSL App.
Vissla NSW Pro Surf Series Dates
Event 1: Camplify Great Lakes Pro QS3000: Tuesday 21st – Friday 24th Feb
Event 2: Surfers Rescue 24/7 Port Stephens Pro QS1000 – Monday 27th Feb: Wednesday 1st March
Event 3: Mad Mex Maroubra Pro QS1000: Friday 3rd – Sunday 5th March
Event 4: Men's Vissla Central Coast Pro presented by Mad Mex QS3000, Women's Sisstrevolution Central Coast Pro presented by Mad Mex: Monday 13th – Saturday 18th March
All events are now open for entries.
The 2022 Vissla NSW Pro Surf Series will be proudly supported by the NSW Government through its tourism and major events agency, Destination NSW. The series will also be proudly supported by Vissla, Sisstrevolution, Destination Sydney Surrounds, Randwick City Council, Central Coast Council, MidCoast Council, Port Stephens Council, Mad Mex, Camplify, Storage King, Southend Hotel, Avoca Beach Hotel, PRD Real Estate, No Text No Wrecks, WSL and Surfing NSW.
Entires for the Vissla NSW Pro Surf Series will open soon, keep a your eye on Surfing NSW socials and website for all NSW Pro Surf Series.