Surfing NSW Junior High Performance Program
December 2021 - April 2022
From December 2021, Surfing NSW will roll out its new NSW Junior High Performance Program.
This program – which is supported by NSWIS and Surfing Australia – will provide NSW's top junior male and female surfers with the pathway and resources to reach their full potential as surfers and as people.
The team is selected based on their results at the NSW State Titles (U18, U16 and U14, top eight men and top six women), and the U12's qualify through the
Points leaderboard based off top two highest results combined, from the NSW Woolworths Surfer Grom Comp Series (U12, top seven men and top five women). 
The program will consist of two state camps with one three-day camp taking place at the Surfing Australia High-Performance Centre and a one-day camp taking place at URBN Surf in Melbourne. All participants will be provided with filming and imagery from all camps. 
About the 2021/22 Program
2020 Junior High-Performance Program participant and northern beaches surfer Saxon Reber said, "I was fortunate enough to be given the opportunity to attend the JHPP and the benefits I got out of it were terrific in the development of not only my surfing ability but also my confidence; all thanks to the amazing staff and program."
The 2021 / 2022 program includes team training camps, digital team catch-ups, guest speakers, wildcard allocations, Lean Performance Gym subscription, an exclusive team uniform and money-can't-buy opportunities.
The program aligns with the Surfing Australia High-Performance talent pathway with the overarching goal of developing NSW's top junior and grommet surfers to become the best surfers and people they can be.
The program will run from December 2021 until April 2022 and is supported by Mambo, Blackroll, Musashi, Lean Performance Gym, and Ocean and Earth
The below outlines an overview of benefits for the program:
Experiences
Monthly digital (zoom) team-catch ups with special guests
Focused sessions on judges' insights with judging experts
Invitation to exclusive 'money can't buy' announcements, events and networking opportunities
Brand and Promotion
A guide to digital and social media
Featured and promoted across multiple Surfing NSW digital platforms
Access to our Creative Kids surf photography and video course
Creation of your own personal profile
Wellbeing and Self-Management
Athlete management including balancing school commitments
Health & nutrition seminars and information
Mental health awareness and information
Sports psychology resources and tools
Performance Progression
Support towards daily performance environment
Strength & conditioning plans supported by Lean Performance
Talent pathway development and guidance through Surfing Australia
Competitions and Camps
Two team state camps
Three-day Surfing Australia High-Performance Centre
One-day URBN Surf Camp
Provision of surf photography and videography at camps
Competition mindset and strategy development
NSW Junior High Performance Team Camp at Surfing Australia's High Performance Centre
February – March 2022
Under 12 – Under 14 Camp Report
Surfing NSW's Grommet High-Performance Program U12 and U14 grommets were invited to Surfing Australia's High Performance Center on NSW's far north coast for three days of surfing, team building, and a whole lot of fun.
The camps were blessed with a terrific run of easterly swell providing optimal surfing conditions for the grommets to progress and push their surfing. 
The theme of the camp was 'progression' with the goal of providing the grommets with the opportunity to try new maneuvers and combinations in the water, get out of their comfort zones and progress their surfing and help develop a healthy, holistic athlete mindset.
Surfing NSW Talent Pathway Coordinator Biba Turnbull was accompanied by four NSW coaches (Blake Johnston, Michael 'Crispy' Crisp, Sambaa Man and Kirra-Belle Olsson) who brought their own flair, fun and expertise. 
Day one involved team building, group surfing for the coaches to get a glimpse of everyone's ability. Surfing Australia's Podium Psychologist Jason Patchell took the grommets through the 'Stress/Pressure Test. Patchell works with Australian athletes on the World Championship Tour as well as some of the top Australian junior identified athletes and was part of the support team for the 2021 Tokyo Olympics Australian Irukandjis team.  
The test has been developed by Patchell to replicate the feeling of being stressed or under pressure when competing in a heat. It involves speed, agility, memory, focus and strategy, as well as mindfulness and being aware of your surroundings. It was a great opportunity for the grommets to experience and take part in something that challenged and developed their emotional intelligence in the water and was very well received.
 Day two started with morning body activation work with Blackroll foam rollers before the team headed to the prestigious Kirra point break in Queensland. For many of the grommets this was their first time experiencing the iconic perfect point break wave. 
It wouldn't be a trip up to the HPC without some trampoline time, skateboarding and airbags. Acrobatic coach Chloe Kerr spent time with the team teaching them the basics of aerial awareness and surf-related trampoline skills. The airbags were inflated that gave the kids the opportunity to use their new aerial skills to launch off the skate ramp into the airbags.
The progression of each grommet over the three day camp was amazing to watch. Bringing together the top U12 & U14 surfers in NSW to surf and learn from each other in a non-competitive environment was a rewarding and valuable experience. 
At the conclusion of the camp the group had become so close that it seemed they'd been friends for years. The team will surf, travel and compete together for the next 5-10 years, so bringing them together has had many benefits that will help them continue to learn from and support each other well into their professional careers.
The following awards were presented:
Camp Champ: Lucy Darragh (U12 Gerringong) & Max McGillivray (U14 Evans Head)

Rising Star: Omar Moltzen (U12 Boomerang Beach)

Charger: Isabel Higgs (U14 Dee Why)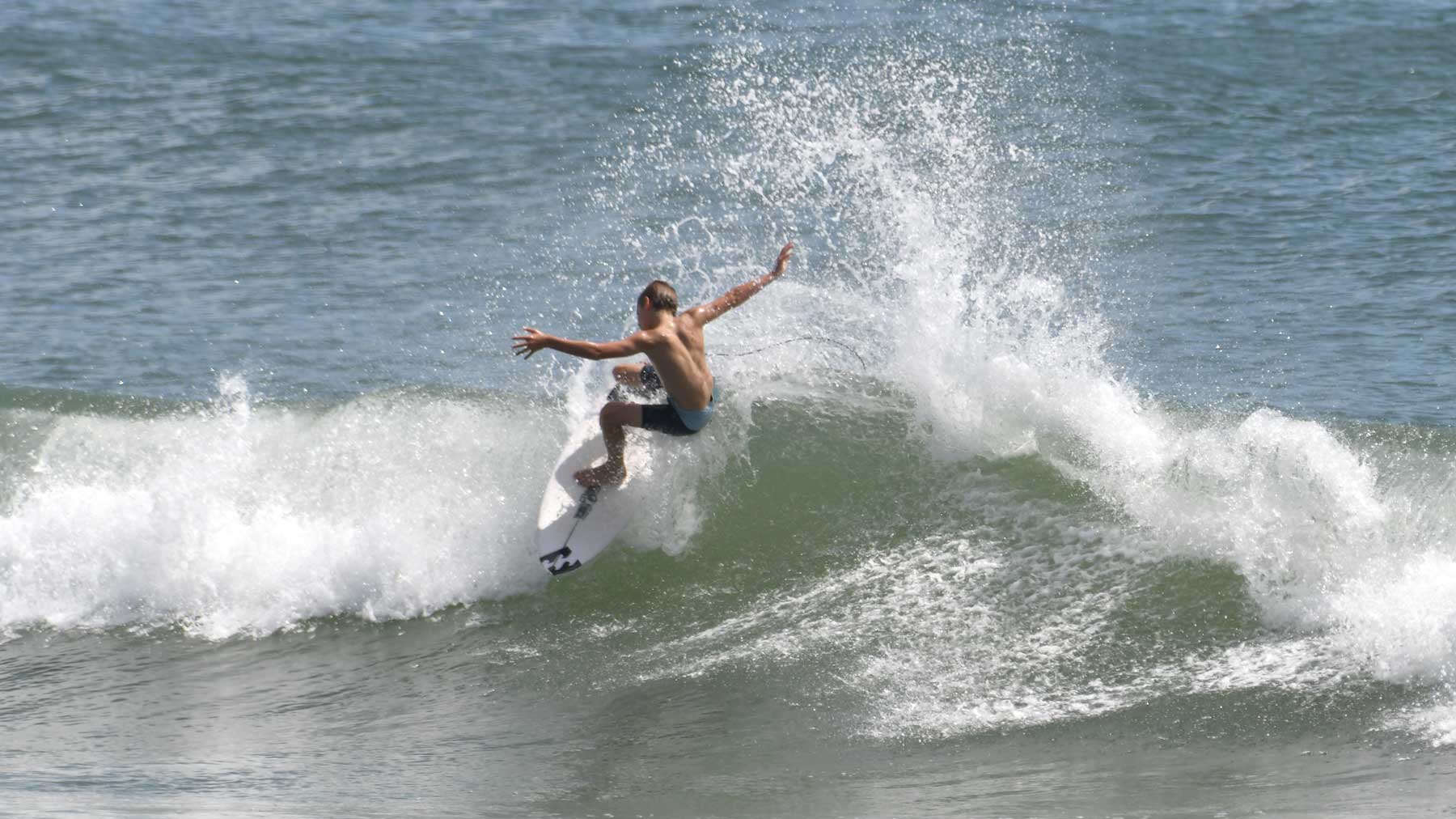 Under 16 – Under 18 Camp Report
The following week saw the top U16 and U18 junior surfers in NSW head to Surfing Australia's High Performance Center to take part in 3 days of surfing, team building, and continued fun.
The theme of the camp carried over to provide the juniors with the opportunity to try new maneuvers and combinations in the water, get out of their comfort zone, and progress not only their surfing but also their skills as young athletes outside of the water. 
Despite the swell not quite providing the high-quality waves as seen the previous weekend, the juniors had the chance to hone their skills in similar conditions they would experience during competition. The conditions also allowed for more team-building in the way of tag-teams and touch football/tag-team surfing, bringing out their competitive nature in a different light.
The older groms really showed how they were driven to push each other out in the water. When someone tried something different or new and then one of their teammates would see it and give it a go too. It was something quite rare and inspirational to watch.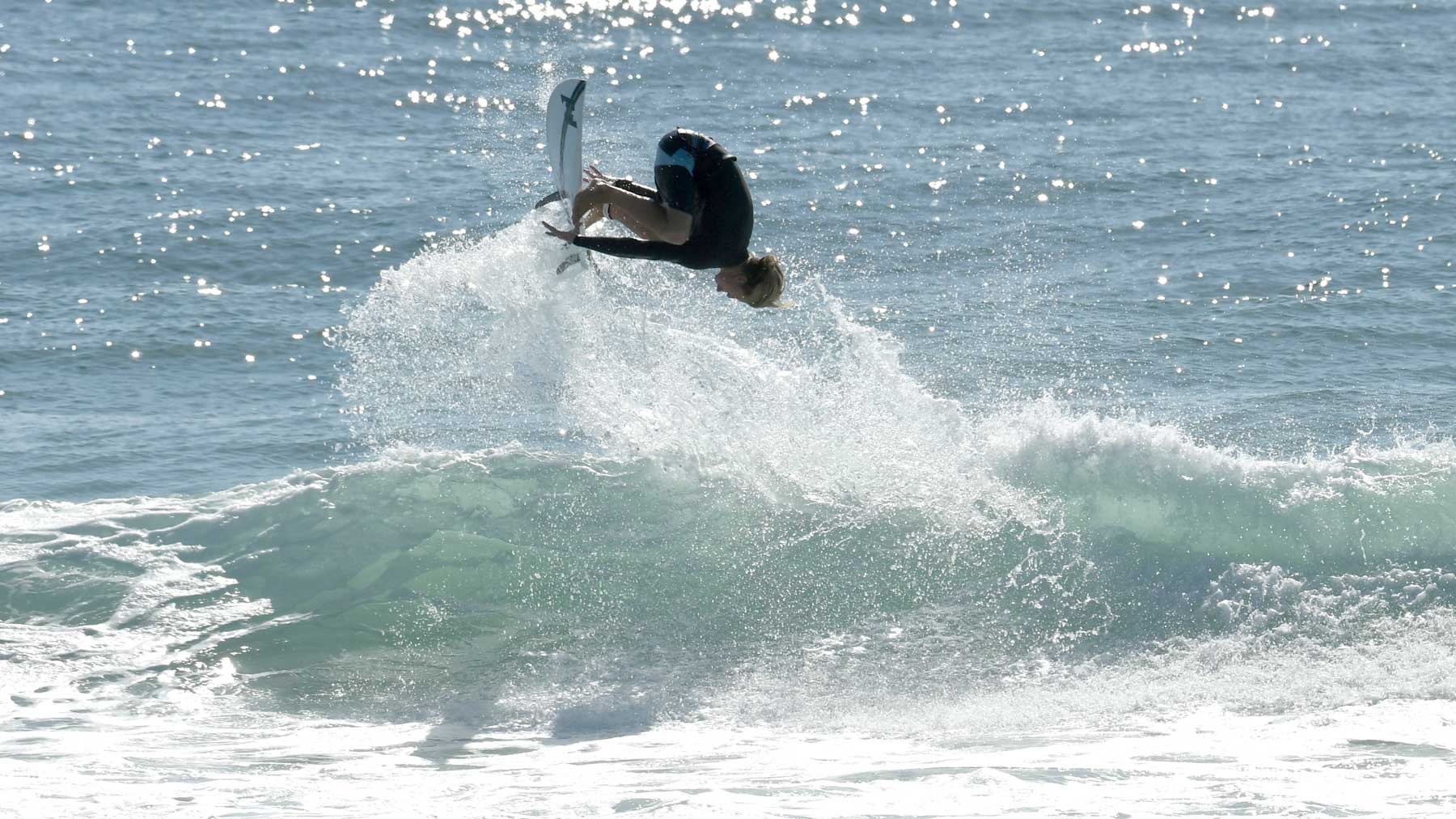 The camp was led by Surfing NSW's Talent-Pathway Coordinator, Biba Turnbull together with four coaches including Sambaa Man, Linton Falfie, Pete Duncan and Jade Wheatley who all brought incredible surf specific knowledge and expertise to the camp.
The surfers were put to the test during the "pressure test" with Jason Patchell. The test revealed who would give up under pressure and who would push through the stress and frustration to reach the end goal and come out on top. 
The junior surfers were also treated to the Surfing Australia HPC trampoline, skate ramps and aerial awareness training. It proved to be very beneficial for the juniors with many of them trying surf-related aerial maneuvers from the skate ramp onto the airbag, focusing on being able to transition their spatial awareness skills back to the water.
One of the highlights was seeing the team camaraderie and friendships forming. Each surfer was so supportive of each other in and out of the water. The level of surfing from everyone was amazing on day one, but by the end of the camp had progressed far beyond what was expected.These surfers took the word 'team' to a whole new level and we can't wait to see what else they have in store for us, its safe to say the future of surfing in NSW is in safe hands.
The following awards were presented:
Camp Champ: Lucy Brown (U18 Newport) & Koda Killorn (U18 Maroubra)

Rising Star: Sammy Lowe (U16 North Wollongong)

Most Progressive: Milla Brown (U16 Newport)