Luke Madden
CEO
Luke has been with Surfing NSW for over a decade in all aspects of operations from event management, coaching and judging management, sports development and delivering the events he once competed in. Luke is onsite at most Surfing NSW events from micro-grom to World Tour level, ensuring Surfing NSW's high standard continues to grow. Madden took over as Surfing NSW CEO in mid-2016, replacing longstanding CEO Mark Windon OAM.
Kate Cass
General Manager - Operations
Kate started with Surfing NSW in September. In previous roles she has owned a busy Maroubra Beach Cafe, been the General Manager of North Bondi RSL Sub-Branch, director of a design and photography business, had many years' experience in the travel industry and has been involved with Southend Boardriders Maroubra for over 15 years.
Claire Ellem
Programs Manager & Business Support Executive
Claire's love of the water began at a young age and led her to surfing in her early teens. While completing her Bachelor of Management in Sport and Exercise at UTS, Sydney she volunteered as an intern at Surfing NSW. Since 2014 she has assisted in all areas of the organisation from event onsite roles to business operations and is currently in the Sport Development and PA role. Claire has a passion for teaching water sports, is a qualified swimming and surfing instructor and an avid supporter of promoting a healthy and active lifestyle.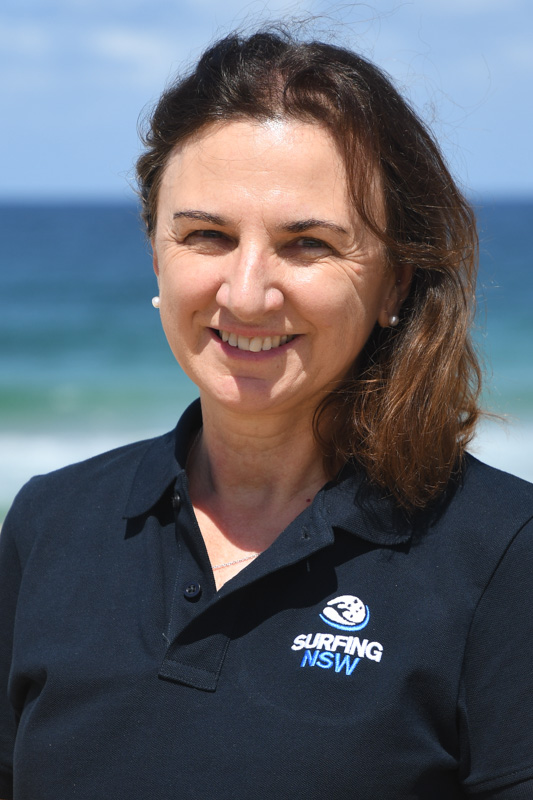 Tatjana Lovelady
Financial Controller
Tatjana spent much of her career with the Big Four accounting firms, both locally and internationally, involved in audit, consulting and corporate finance working with blue chip companies across a diverse range of industries. She has also held lecturing positions at the University of Sydney and UNSW at the undergraduate and postgraduate levels.
Matt Lawson
Surfers Rescue 24/7 and Boardriders Club Manager
Matt joined the SNSW team in February of 2020 arriving with a wealth of experience in both business management and sports administration. He has a proven track record of running successful organisations and businesses as a General Manager and CEO over the last 20 years and has been immensely involved in various community groups for most of his adult life.
Matt is the Regional Director for Surfing Sydney Southern Beaches (Sydney Harbour to Cronulla) and is a panellist on the Australian Surfing Walk of Fame. At a Boardrider Club level he has been heavily involved with Southend Boardriders Maroubra for the last 20 years, previously holding office bearing positions of Club Caption and Club Present (15 years) and recently established Maroubra United Boardriders.
Emma Irvine
Partnerships Manager
Emma comes from a background in marketing, having completed a Bachelor of Communications from Charles Sturt University in 2014, she then went on to pursue opportunities in radio with Commercial Radio Australia (CRA) and Nova Entertainment, working across both in-house brands Nova 96.9 and Smooth FM. She then moved into retail management and visual merchandising, working with well-known brands Vans, Glue Store and JD Sports. Emma has also consulted for Australian brand, Blue Dinosaur to build their still successful in-house promotions team.
Emma now works closely with Surfing NSW's partners to maintain an exceptional standard and exceed expectations.
Rohan Fell
Events Manager
Rohan began his journey with Surfing NSW in July 2020 managing event logistics, event staff and overall site coordination. Growing up in Tathra, on the Far South Coast of NSW, Rohan began surfing from a young age. Moving to Manly in 2014, he completed a Bachelor of Sports Management and Masters of International Business at the International College of Management, Sydney (ICMS). His passion derived from a love of sports and surfing mixing with great enthusiasm for business. After working as the Sports Coordinator for ICMS and player agent at Cream of the Crop Talent Management, Rohan brings great customer service, team leadership and an overall positive attitude to work everyday. 
James Robinson
Art Director and Content Producer
James joined the Surfing NSW family in 2020, he has over 25+ years working within the surf industry as an Art Director, Graphic Designer, Illustrator and Brand/Team manager working with local and international labels in Australia, Europe, USA and beyond. With a focus on building brands from the ground up, James has worked across all aspects of branding, manufacturing, merchandising, illustration, content creation and design. James brings a wealth of creative knowledge and a design skill set that will help Surfing NSW showcase its ever growing presents to the worldwide surfing community. Founder of Bound by Sea, James also creates one of a kind handmade, hand drawn, hand shaped wooden board, paddles and  artwork.
Matt Anlezark
Events Teams Support
Matt started working on Surfing NSW events in 2017, where he worked in a number of roles, ranging from work crew to computer operator. Prior to this he worked for Surfing South Australia starting with them in 2013. Over his time at Surfing SA he managed their surf school and managed various events. While working there he also competed an Advanced Diploma in events.
Adam Seminara
Education Coordinator
Adam joined Surfing NSW in 2021 but has been a part of the Maroubra Surf community since he was a micro-grom. Growing up on the beach he has always had an affinity with the ocean, competed in state-level surfing and has been an active member of numerous Maroubra Boardriders clubs. Adams' love for surfing and travel took him to Europe and Africa in 2012 where he started his career in the surf industry as a surf guide in Morocco. After several years as a surf instructor for San Sebastian Surf Camp, in 2015 Adam developed a new Surf Camp model in the Spanish Hills which he managed until 2018. Following his return to Australia Adam took on the Stoke Beach House in Manly as General Manager and thoroughly enjoyed building relationships within the Sydney surf community.
Biba Turnbull
Talent-Pathway Coordinator
Biba started working with Surfing NSW where her passion for surfing began, on the beach, working alongside the events team in 2019.
From there she has strengthened her knowledge of competition and athlete development, working alongside John 'Shmoo' Shimooka, piloting Surfing NSW's Junior High-Performance Program in 2020.
With a background as a professional athlete competing in snowboarding on the Australian team, narrowly missing out on the 2014 Sochi Winter Olympics, it is no wonder Biba's passion for talent and nurturing the next generation of professional surfers led her to become the Talent-Pathway Coordinator.