Matt Lawson
Head of Programs and Community
Matt joined the SNSW team in February of 2020 arriving with a wealth of experience in both business management and sports administration. He has a proven track record of running successful organisations and businesses as a General Manager and CEO over the last 20 years and has been immensely involved in various community groups for most of his adult life.
Matt is the Regional Director for Surfing Sydney Southern Beaches (Sydney Harbour to Cronulla) and is a panellist on the Australian Surfing Walk of Fame. At a Boardrider Club level he has been heavily involved with Southend Boardriders Maroubra for the last 20 years, previously holding office bearing positions of Club Caption and Club Present (15 years) and recently established Maroubra United Boardriders.
Matt Anlezark
Communication Coordinator
Matt started working on Surfing NSW events in 2017, where he worked in a number of roles, ranging from work crew to computer operator, after working in the event team for five years in late 2023 made the transition into the Marketing and Comms team.  Prior to this he worked for Surfing South Australia starting with them in 2013. Over his time at Surfing SA he managed their surf school and managed various events. While working there he also competed an Advanced Diploma in events.
James Robinson
Art Director and Content Producer
James joined the Surfing NSW family in 2020, he has over 25+ years working within the surf industry as an Art Director, Graphic Designer, Illustrator and Brand/Team manager working with local and international labels in Australia, Europe, USA and beyond. With a focus on building brands from the ground up, James has worked across all aspects of branding, manufacturing, merchandising, illustration, content creation and design. James brings a wealth of creative knowledge and a design skill set that will help Surfing NSW showcase its ever growing presents to the worldwide surfing community. Founder of Bound by Sea, James also creates one of a kind handmade, hand drawn, hand shaped wooden board, paddles and  artwork.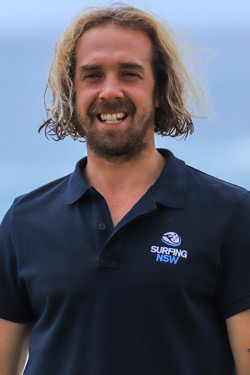 Adam Seminara
Program and Education Manager
Adam joined Surfing NSW in 2021 but has been a part of the Maroubra Surf community since he was a micro-grom. Growing up on the beach he has always had an affinity with the ocean, competed in state-level surfing and has been an active member of numerous Maroubra Boardriders clubs. Adams' love for surfing and travel took him to Europe and Africa in 2012 where he started his career in the surf industry as a surf guide in Morocco. After several years as a surf instructor for San Sebastian Surf Camp, in 2015 Adam developed a new Surf Camp model in the Spanish Hills which he managed until 2018. Following his return to Australia Adam took on the Stoke Beach House in Manly as General Manager and thoroughly enjoyed building relationships within the Sydney surf community.
Kathy Walton
Programs Support Officer
Kathy joined the SNSW team in November 2022, coming from a background of events, marketing and sponsorship with one of her most recent positions at Cronulla Leagues Football Club. Kathy and her family are passionate about surfing, with her two boys who surf in various competitions along with being members of a  Boardrider club.  
Kathy is actively involved in North Cronulla Junior Boardriders committee and recently moved into the Club President role. Along with NCJB she is involved in the North Cronulla Surf Club as the sponsorship co-ordinator and arranges various fundraising events as part of her committee role.
Corey Ross
Events and Competitions Coordinator
Corey started working with Surfing NSW as part of the events team in 2018, learning a variety of skills throughout the company. After working on the events for over 5 years, Corey completed an Internship where he then moved into a Full-time role as Events & Competitions Coordinator. Prior to this, Corey completed a Diploma in Sports Development, along with currently undertaking a Bachelor of Sport Business at UTS. Corey's passion for surfing began from the age of 8 and he has shared that passion for the sport through his local community, becoming co-president of Curly United Boardriders Association.
Ryan Haworth
Performance Pathways and Competitions Coordinator
Ryan having grown up in the Northern Beaches of Sydney, has had a lifelong passion for sport and surfing which compelled him to the surf industry. After Completing a Bachelor of Sports Exercise and Management at the University of Technology and gaining valuable knowledge within our events and programs divisions in 2022.  Ryan has since joined Surfing NSW within competitions and performance pathways, channeling his energy and passion for the ocean to provide opportunities for the next generation of competitive surfers.
Nathan Webster
Sports Development and Pathways Manager
Nathan joined the team at Surfing NSW in Jan 2023 as the Sport Development and Pathways Manager. Nathan celebrates a decorated career in surfing, including 10 years on the WSL (ASP) World Championship Tour before, transitioning to lead roles in the industry at brands like RVCA and Deus Ex Machina. Winning titles at every level of the sport, Nathan has an intrinsic understanding of the state, national and international surfing pathway and 

h

is goal now is to take junior high performance surfing in NSW and Australia to the next level, seeking opportunity and improvement wherever it can be found.